Real estate sale transactions increased by 17 percent in numbers and 43 percent in value in the first quarter of 2020 compared with the same quarter a year earlier.
The General Directorate of Land Registry and Cadastre (GDLRC) registered 14,068 sales transactions during the quarter valued at $2.33 billion. The average value of one transaction increased by 23 percent to $166,050. The recorded transactions may reflect sales made during that quarter in the previous period.
Despite recording the lowest number of transactions, Beirut ranked first in terms of value of deals. Its average value per transaction was close to $650,000. Baabda registered the highest number of transactions (20 percent of the total).
The number of sales transactions carried out for the purpose of covering debt tripled in the period from October 2019 to the middle of the first quarter of 2020, compared to the same period of 2019, according to Georges Maarawi, Director General of the DLRC.
The Central Bank had indicated that around $7 billion were withdrawn from the banking system for repaying bank loans, the majority of which were owed by developers.
Demand for real estate properties, which started late last year, is still high, according to Ziad Maalouf, CEO of Capstone Investment Group, a real estate development company. "Most buyers are looking to free funds deposited in bank accounts through real estate purchases," he said.
Most of the supply comes from developers who saw an opportunity to close outstanding bank loans. "Developers sold their available stock. Small apartments of less than $800,000 price are sold out," said Joe Kanaan, General Manager at S-Gestion, a brokerage and property management company.
"Apartments under construction are also selling, with down payments exceeding 80 percent in many cases. Following the rise in the cost of construction materials, prices increased by up to 20 percent for projects under construction," Maalouf said.
As developers are liquidating their stocks, property owners in the secondary market are expected to enter the field, according to Kanaan.
The government's 2020 budget is offering cuts on property recordation fees valid until September of the same year. The Ministry of Finance allowed a reduction in registration fees from five to two percent for properties valued at below $250,000. This encouraged the recordation of transactions concluded in previous years, but not registered by their owners, according to Maarawi.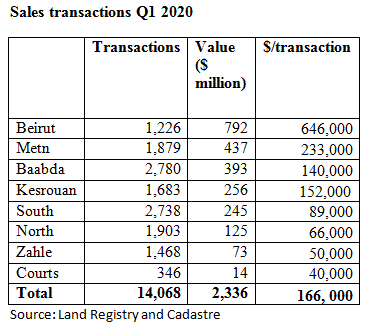 Reviews are very important when it comes to building a reputation in business. If potential customers can't find any reviews about you, they may as well view you as an untrustworthy brand. That's why when you hire a top reputation management company, one of their tasks is developing the right strategies to communicate with your customers and encourage them to review you.